Products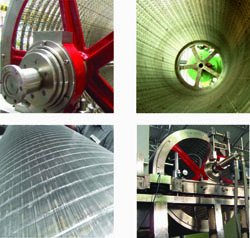 Our products include:
Dandy Rolls: Plane Wove and Plate Laid.
Modern Bracket Systems.
Showers and Cleaning Systems.
Watermarks and Shadow Watermark.
Diagonally Seamed Covers and Wire Cloths in PB & SS-316L
Cylinder Moulds and covers.
Dandy Roll Vaccum Suction Boxes.
Combi Rolls.
We offer on-site service for Dandy Roll erection and commissioning, watermark fixing and technical consulting.
Precision is the cornerstone of the performance of a dandy roll. Our dandy rolls exemplify the following:
High degree of circularity and linear truth to maintain an even pressure across the sheet.
Reduced fiber buildup and body ring marking through a sophisticated helical design.
Heavier and more substantial rolls to increase torque resistance which maintains their original profile under arduous conditions.
Improved drainage to optimize the performance of continuous cleaning equipment .