Modern Bracket Systems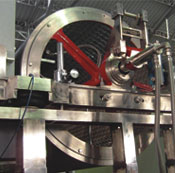 In order to maximize the efficiency of the dandy roll, it is necessary to run it on a modern system that can ensure a smooth and vibration free operation with minimum down time; Dandy Rolls India has designed precisely such a system, an elegant solution that has simplified paper production for our clients worldwide.
High Speed Machines: Our uniquely designed bracket systems for supporting centrally driven dandy rolls ranging from 1000-2000mm dia in size consist of heavy guage SS-304 castings machined to a perfect finish. These brackets accommodate heavy duty spherical roller bearings, electro-mechanical motors for oscillating cleaning water/steam showers and the choice of customized save-all trays in fiberglass or Stainless Steel. High quality pneumatic air bellows ensure quick lift of the dandy roll assembly while the specially designed lifting eyes on the bearing housing allows for rapid change of the dandy rolls, minimizing down time.
Slower Speed Machines: We also manufacture bracket systems for machines ranging from below 150 m/min onwards - these may be vertical type brackets that run hollow or spindle type dandy rolls or friction driven trunion type systems.