Frequently Asked Questions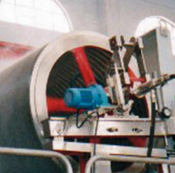 Why use a dandy roll? Can one use a Dandy Roll for kraft papers as well?
A dandy roll is a proven means to improve formation and consolidation of paper. It is also a necessary component to impart watermarks on paper.
The use of a dandy roll:
Produces a stronger safer, more lint-free running sheet.
Helps the press function more efficiently.
Improves drying through better contact.
Enables calendars to create a more uniform finish.
Creates a better surface for printing, sizing, or coating.
The range of paper grades which have benefitted from the use of our dandy rolls is wide - from liner products to laid papers, fine and watermarked paper to labels, writing papers to cigarette papers, the list is various. In fact, our research has shown that using a dandy roll to produce Kraft papers results in a compact sheet with lesser caliper variation across the sheet and an improvement of burst factor by 5-10% on an average. A dandy roll can significantly improve numerous varieties of paper with the added economic asset of increasing production efficiency.
Using a dandy roll can improve the formation of the paper by as much as 10%. Studies have shown that properties, like burst factor, improve in Kraft papers when a dandy roll is used.
How do I receive a dandy roll quotation?
Please click "Enquiry" on our website home page to send us the appropriate information to request a quotation. You may also contact us by e-mail/fax/post (click "Contact Us" on our website home page) to request a quotation.
What are the advantages of a complete dandy roll system from Dandy Rolls India as opposed to other dandy roll systems, such as a trunnion type system?
The latest technology in dandy roll design is to drive the dandy roll centrally with flanges that contain self-aligned spherical roller bearings and housings. This type of Dandy roll system is completely free from vibrations and runs smoothly for many years with minimum consumption of spares.
What is the average time it takes to deliver a dandy roll? What about watermarks?
The average time taken for a complete dandy roll system would be around 12-16 weeks, depending on the size. Watermarks may be made and fixed on an existing dandy roll in 3 weeks, although we are able to accommodate more urgent requests based on the client's needs.
What kind of products are currently available from Dandy Rolls India?
Please click "Products" on our website home page to see our current products and updates.


What do watermarks cost?
Watermarks may be two dimensional electrotypes or three dimensional "shadow" marks directly embossed on a wire mesh cover. The cost of watermarking depends on number of marks required and also the complexity of watermark design.
What are the recommended RPM for Dandy rolls?
We recommend the following RPM for different grades of paper.
50-120 for Plain paper.
40-90 for watermark papers
40-80 for Ledger papers.
What are the basic details required to make an enquiry for the Dandy roll system?
Please use our Questionnaire Form (under Enquiry) to provide us the basic details we require to send you a Quotation.
Maximum and minimum speed of paper machine
Wire width of the paper machine
Composition of raw material/Pulp
Paper machine wet end drawing showing cross sectional view.